I spent my long weekend trying to recover from a throat infection, so I was in no mood for major cooking, but I did cuddle up with my little boys and watch some Food Network, which I haven't done in months. That is, both watching Food Network and actually get to watch something of mine with my sons in the same room. They usually moan too much about wanting to watch their shows that it's pretty pointless attempting to watch anything myself. But this weekend was different, I had one with his head on my lap and the other snuggled against my side and they watched in silence, I wished I'd gotten a photo, a rare peaceful moment!!!
So anyways...I saw an episode of Bob Blumer's
Glutton for Punishment
and he was learning to make dim sum dumplings from the masters and it seemed really difficult. So I thought I'd prepare some Shu Mai Dumplings while fresh with the tips I picked up from the show.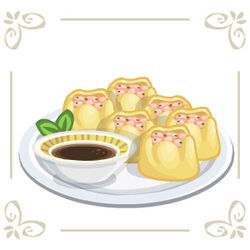 Shu Mai Dumplings
As it turned out, Shu Mai dumplings are open ended and are not as difficult to construct as those I saw on the show. I also found that there are ready-made dumpling wrappers, so I didn't need to make the pastry.
I used
this recipe
from myrecipes.com. It was pretty simple, with standard (for me) ingredients. When I went to the oriental food market, the guy there was very uncertain about me making my own dumplings and kept on trying to sell me the prepared frozen ones, but since I bought the dumpling wrappers and a bamboo steamer and new chopsticks, I think he made a better sale.
I think they turned out pretty okay looking, not perfect, but none fell apart and they were easy to eat. They tasted absolutely FAN-frikken-TASTIC, I'm still salivating about that meal 24 hours later. I think the ginger and green onion were the essentials for the taste. These dumplings had pork and shrimp, but I saw different recipes with just pork, just shrimp and some with mushroom and other veggies too. I even saw tofu and eggplant versions.
I was really intimidated at first, but I'm really glad I discovered this dish...this recipe is definitely a keeper and will be made again and again.
New Cafe World dish
Another favourite has been added earlier in the week: Philly Cheesesteak
Late last night I came across two new ones, Angel Fruit Cake and Spicy Devil Eggs. I wish they'd introduced this last week, so I could have included the Devilled Eggs I made then, oh well it's very easy and I'll do them again soon.
Progress: 27/65
Next Up: If I can find some, I'll get some Lobster.
* Disclaimer: Image owned by Zynga. This site is not owned by Zynga. This site is not the owner of the intellectual property.